Have you sold a house lately? Have you noticed the dramatic increase in the number of homes that are being offered for sale, and at record high prices?
Have you wondered how some sellers get their homes to sell so quickly and command such high prices? If you have, chances are, you're not alone.
It's no secret that the market is strong. However, it takes more than that to sell a residential property. A beautiful landscape also matters, and when it comes to boosting its appeal and looks, concrete decorative curbing can help.
Here are the different ways decorative concrete curbing can help you sell a residential property fast and easy.
1. Decorative Concrete Curbs Create Instant Outdoor Appeal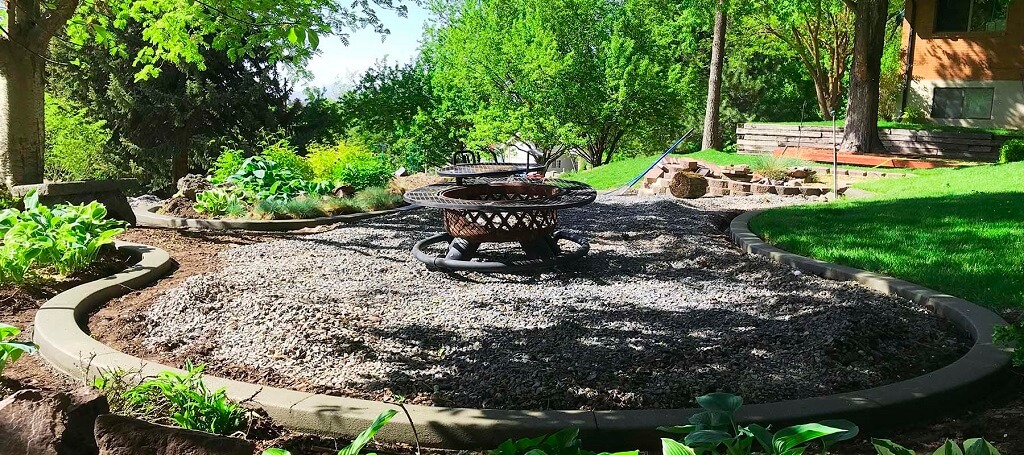 Dull front yards with barren flower beds are uninviting. Landscape curbing adds colors, depths, patterns, and dimensions to an otherwise flat, boring outdoors. And a well-done edging project that makes the front lawn charming and a thing of beauty pays — a lot.
Some experts believe that you can expect to recoup 150 percent of what you spent to transform the area, which is way more than enough to cover the cost of the project, but others think that it's a conservative estimate.
2. Concrete Landscape Curbing Can Increase Your Property Value
Contrary to popular belief, just because your residential property is an affluent or beautiful neighborhood doesn't immediately mean you can command a high price for it.
Granted, it's common among homes within the same neighborhood to have similar market values (which is how much customers are willing to pay for the house). At the end of the day, though, many factors affect the price and even the choices of buyers.
One of these is the look of the yard. According to BankRate, decorative landscaping can potentially increase the property value by at least 20% compared to an exterior that doesn't have landscaping.
Keep in mind, however, that, in reality, a curbing job can make or break the appeal of your yard. Shoddy concrete landscape curb work makes the outdoors appear worse. If that isn't enough, customers can see right through the problem. They know it will cost them a lot to fix or replace it.
Choose your contractors well. If you live in Cache Valley, Cache Curb Appeal specializes in concrete landscape curbing. We offer a variety of Curbing Choices with curbing styles, patterns, and options to transform any outdoor space into a thing of beauty and potential. These include mower style, slant style, and box style.
We also provide colorful decorative landscape borders and natural stone edging that we can make to look like a real slate or brick, among others.
As insured and licensed contractors, we follow a strict process to ensure that we can enhance the appearance of your yard.
3. Decorative Concrete Curbing Brings Order to Your Yard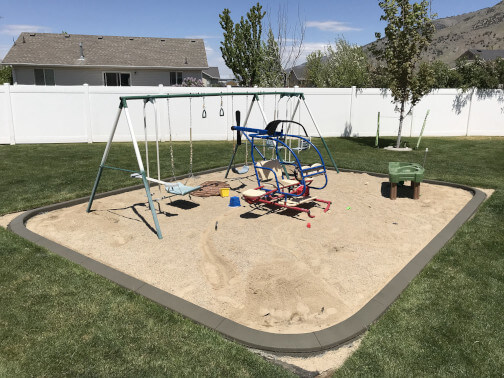 A well-organized yard is another factor that can play an important role in getting your home sold quickly. If you have more flower beds than you know what to do with, fewer flowers growing there than you might like, or if your flower beds are haphazardly scattered throughout the yard, showing buyers how it all fits together can be difficult. After all, for future homeowners, a cluttered yard means additional work and even cost.
Concrete landscape curbing can bring organization into your yard.  A decorative concrete edge, for example, can help create boundaries between grasses, driveways, trees, and other elements outdoors. This way, it's much easier for someone to define the space, especially if we're talking about a huge yard.
4. Landscape Concrete Curbing Saves You Money on Out-of-Pocket Costs
A lot of homeowners are not aware that out-of-pocket costs can be much higher if they don't consider landscape curbing:
The soil won't be properly taken care of, separating the flower beds from the lawn. It may be more challenging to plant something here later on.
If the yard lacks decorative landscape edging, more likely, it doesn't have an effective drainage system.
A missing decorative landscape design can lower the value of the house and drive away potential buyers.
Now, it's understandable why some don't want to invest in a landscape concrete curb. It's an extra expense. But besides increasing the value of the house, it is actually cost-effective, particularly in maintaining a yard.
There's such a thing as low-maintenance curbing. Our team, for example, doesn't paint over concrete if we want to add patterns or colors. Instead, we add the colors and use stamp rollers, among other materials, during the curbing process.
In turn, colors and patterns on flower beds and edges will appear vibrant for many years. We also seal the colored concrete, not just once but twice or more, so no moisture can get in. That will help slow down the wear. In fact, this is what makes our material more durable than wood, metal, and plastic.
5. Concrete Landscape Curbing Saves You Time and Frustration
Concrete decorative landscape curbs save you a lot of time. It takes much less time to install them than to plant flowers and grasses in flower beds by hand, lay sod down yourself, or hire contractors to do it for you.
In fact, your yard may not have a lot of plants, but if you have well-installed and properly maintained decorative edging, you can already transform the yard into a space of beauty.
And no, you don't have to break your back all the time to maintain a decorative curbing job. Once you get past the 28 days, which is the average curing time, your curb is all set!
Even better, Cache Curb Appeal, one of the leaders in decorative landscape edging in Cache Valley, Utah, offers a 90-day warranty for our work. If you're not happy or if it gets damaged because of what we did during the project, we'll be more than happy to repair it for you – no questions asked, for free. If it gets damaged for reasons not caused by us, let us know and we'll work with you to get it fixed.
We also use our foresight when designing curbing. Besides considering one that's low maintenance and cost-effective, we create a landscaping decorative curb that complements your drainage system. After all, the last thing we want to happen is for water to get stuck on your grass and flower beds or, worse, flow into your neighbor's yard.
Simply put, for a few days of work, landscape curbing can give you, the homeowner or the future home buyer, a home with a gorgeous, easy-to-maintain yard that also boosts the property value. It's a win-win! There's no better time to update your outdoor space than today while the market is still hot. For your edging or curbing needs in Cache Valley, contact Cache Curb Appeal today to get your Click Me!!! and schedule a site visit. We guarantee quality work.